Diagnostica Stago receives UD FDA clearance for Max Generation3 family of automated hemostasis systems.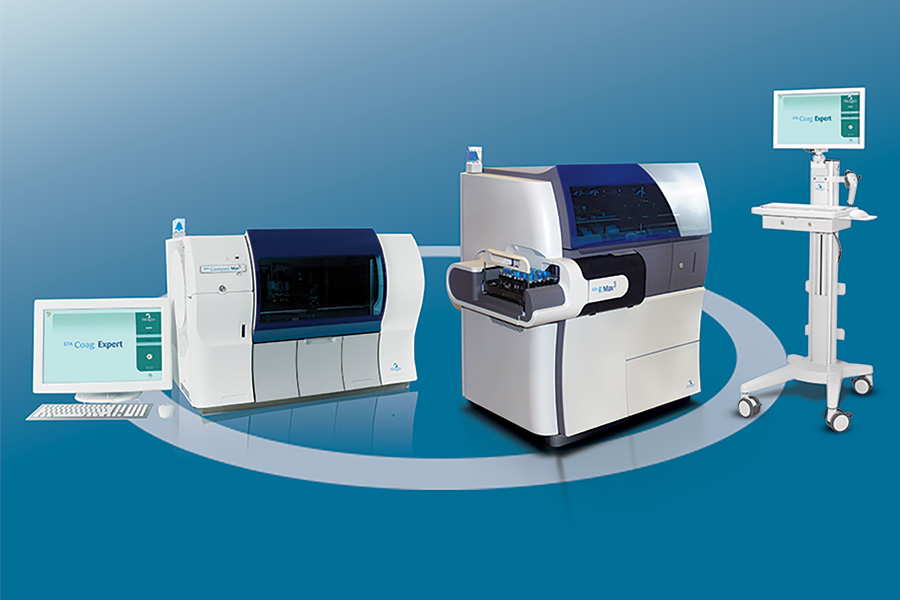 Parsippany, NJ, June 19, 2023 – Diagnostica Stago, Inc. (Stago) announced 510(k) clearance of the Max Generation3 family of analyzers including STA R Max3 and STA Compact Max3, today. The first coagulation analyzers to gain 510(k) clearance from the US Food and Drug Administration since 2017, the Max Generation3 analyzers deliver an exclusive combination of Stago's Viscosity-Based Detection System (VBDS) mechanical clot methodology and a comprehensive pre-analytical module that ensures quality results with fewer interventions, fewer flags, and efficient, automated sample management. Max Generation3 analyzers will be introduced to the US market at the 2023 AACC Scientific Meeting in Anaheim, California, July 25-27, 2023.
STA R Max3 and STA Compact Max3 are intentionally designed to meet workforce challenges of today's laboratories. Building upon 30 years of VBDS gold standard excellence, Stago's new Expert Preanalytical Check (EPC) ensures pre-analytical sample integrity with checks for proper fill volumes, hemolysis, icterus, and lipemia in advance of testing with no additional cuvettes, reagents, or plasma consumed. EPC joins the power of VBDS to ensure that laboratorians can report the right result, the first time with confidence for clot-based, immunoturbidimetric, and colorimetric test methodologies. Additional efficiencies are gained with an innovative, maintenance-free, single resolution pipetting system (PSR) that delivers industry leading precision.
Each STA R Max3 and STA Compact Max3 is powered by a Windows 10 operating system and protected by cybersecurity safeguards such as user-rights management to ease the minds of laboratorians and IT departments alike. The security of the system and privacy of data is implemented by design to comply with international guidelines and to enable deployment of new applications that support laboratory management such as remote expert support.
"We know time is more valuable than ever in the clinical laboratory. The Max Generation3 family was designed to reduce hands-on time, limit maintenance operations, ensure reliability, increase cybersecurity safeguards, and deliver unmatched quality results," said Philippe Barroux, CEO of Stago North America. "Stago's mission is to provide a robust, complete hemostasis solution – from reagents to eSolutions – so our laboratory heroes can worry about managing their equipment less and focus on patients more."
The Max Generation3 family of analyzers continues Stago's commitment to deliver the most clinically relevant test menu, highest onboard capacity for samples and reagents, and unmatched reliability for mid-to-high volume clinical laboratories. STA R Max3, designed for high-volume and reference laboratories, is the industry leader for total laboratory automation (TLA). STA R Max3 is TLA-ready and at home in a demanding specialty lab environment or a high-volume laboratory where it can connect to every TLA line on the market or to Stago's transformative coagulation automation line, STA Workcell Max®, with no instrument modifications or impact to turnaround time. STA Compact Max3 brings patient-first advanced coagulation services to the mid-sized laboratory with the same test menu, quality of results, and efficiencies of STA R Max3 in a smaller footprint.
Stago's focus has always been to deliver the best result for the patient. Building on that, Stago is excited to expand the interference-free capabilities of VBDS to all Max Generation3 methodologies. Max Generation3 meets the needs of today's laboratories while asking our overburdened customers to do less.